Worship Services
Bible Fellowship Groups – 9:45 Sunday Mornings
Let us help you find a Bible Fellowship group just for you. We believe such groups help you connect with others on a more personal level. These groups are initially broken out into age groups. However, we strongly encourage everyone to find the group(s) that meet their spiritual need. Contact the church office at (903) 843-2572 for assistance in getting you plugged in.
Worship Service – 11:00am Sunday Mornings
Worship Ministries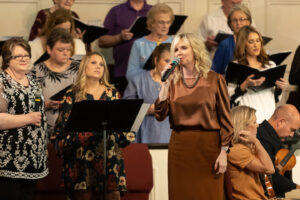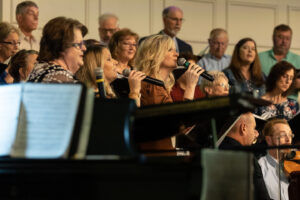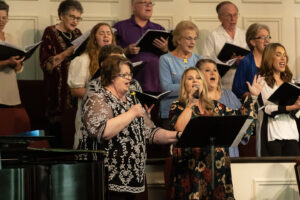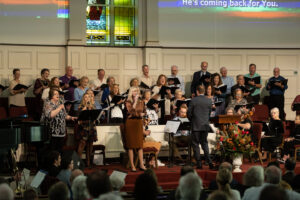 ADULT CHOIR
Adult choir is a great place of service and fellowship for adults. Rehearsal attendance and a love for singing praises to our Lord are the only requirements to be a member. As a worship-leading choir, our rehearsals focus on spiritual and musical preparation for Sunday worship. We also use the time to prepare for special events such as Christmas, Easter & Patriotic productions. All adults are welcome to come. Childcare is provided.
Rehearsals: OFF FOR THE SUMMER
AUDIO / VISUAL
AUDIO-VISUAL TEAM If you love technology, then this is the place for you to serve. We are always looking for people to help with the following A-V systems: sound, video projection, television (filming and editing), video announcements, as well as special teams during major choral presentations. Contact Amy Kessler for more information.
PRAISE TEAM/WORSHIP BAND/ORCHESTRA
Our worship musicians share their God-given talents by providing accompaniment and enhancing our worship services by playing special instrumental selections or singing. All interested musicians should contact Amy Kessler for specific requirements and skill level needed.